Family-Style Dining at Home
This month's focus at Kids & Company is children and their relationships with others whether at home with siblings or at school and child care with their peers. I know when my children were younger, I always wanted to instil relationships and a friendships between them. Even though they may drive each other crazy when they are younger, they really can be some of the closest friendships you have when you are older.
A way to have your children work together and spend time together at home is by practicing family-style dining.
As many of our parents know Kids & Company practices family-style dining in all centres during the day. The benefits are phenomenal and for this reason this type of dining is actually a requirement for our facilities in many provinces.
In family-style dining, all of the food is placed in serving bowls on the table encouraging children to serve themselves. We usually have one bowl for the protein, another for the carb, one for fruit and one for vegetables. The children will scoop their own portions and pour their own milk, improving fine motor skills. The goal of family-style dining is for children to practice good manners, develop self-help skills and overall, enjoy their meal setting. In the centres, a teacher is present at every table. They are a role model, sitting and engaging in positive conversation with the children. The children engage with their peers around them as well by taking turns, asking each other to pass the serving bowl or to ask for more of a particular serving.
At home, family-style dining can be a great way for your young children to work together and help you in the kitchen. Depending on their age, they may be able to help you bring the food to the table in the smaller serving bowls, or maybe carry the serving spoons – which will be a much easier clean-up if they are to fall out of little hands! This whole experience will give your older children the chance to work with their younger siblings. They will want to impress you so will enjoy the chance to show you just how helpful they can be. They can help you set the table, assist their younger brother with the hand-over-hand method (they will place their hand over their brother's or sister's hand and scoop the portions together), or help their little sister scrape her plate off at the end of the meal. Younger children look up to their big siblings so will love that they are now their focus.
To get started at home, all you'll need are smaller serving bowls so they are easy for small hands to maneuver and small serving utensils. Salad spoons or small tongs work well for your little ones. Be prepared for spills! Have a cloth close by. Just remember, that these mistakes now improve the skills over time.
Below is a picture we received from a Kids & Company parent from one of our Vancouver, BC sites. Her children practice their family-style dining at home - neat and tidy!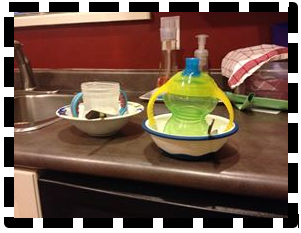 "I just want to share this photo to show how thrilled I am that my kids, 2 years and 4 years old are learning to clear the table after their meals at home. I have to credit Kids & Co for this via their family-style dining program. My kids only attend one day per week but they love it and they learn so much!!"
Be sure to try this at home. You'd be amazed at how accomplished and capable your children are.
Cheers,
Chef Lisa Ruscica
Chief Food Ambassador
Posted on: Wednesday March 5th, 2014
Posted by: Lisa Ruscica