Featured Recipe: Kidco Kitchen Piri Piri Chicken
Sweet, smoky, and a little spicy, could you ask for a better-rounded dish than Piri Piri Chicken? In winter when the snow covers the world in a sheet of white and things may seem a bit monotonous, this dish is sure to liven up your chilly evenings! This warming feast may be a dish whose roots reside in Africa, but we are sure that it was meant these cold North American winter evening!
"Piri Piri" actually means "Pepper Pepper" in Swahili because the main ingredient in this succulent supper is a special type of spicy pepper mainly found in certain areas in Africa, which we have removed from the recipe to account for our Kidco kiddies sensitive taste buds! The Piri Piri sauce that famously marinates the chicken is a combination of simple ingredients but whatever it lacks in complexity it makes up in the ease one can make it as well as the fresh taste it gives the chicken. Try making our delicious new Kidco Kitchen Piri Piri Chicken at home for a wonderful winter meal that will make you feel warm inside when it is cold and frosty outside! Check out the recipe here!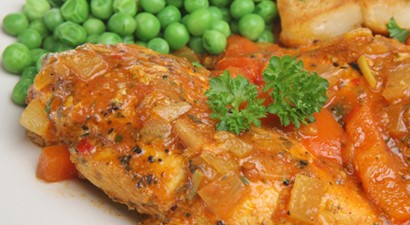 Piri Piri Chicken
*Serves 6
What you need:
-       6 Chicken Breasts
-       1/2 Tbsp Thyme
-       1 Tbsp Minced Garlic
-       1 Tbsp Paprika
-       2 Tbsp Olive Oil
-       1 Cup Diced Onion
-       1 Cup Diced Tomato
What to do:
Make sure to wash your hands before you begin.
Preheat oven to 350oF.
Place chicken in a baking dish. Add all ingredients to dish and bake in oven for 45 minutes—1 hour.
Serve chicken with roasted sweet potatoes and salsa to dip!
 Piri Piri Fun Facts!
"Piri Piri" actually means "Pepper Pepper" in Swahili which refers to the special type of pepper used to make the marinade that coats the chicken of a Piri Piri Chicken dish!To make the best Piri Piri Chicken, marinate the chicken for about four hours to allow the flavours to be infused into the chicken and remain there after cooking.
Serving your Piri Piri Chicken atop some paprika rice will perfectly compliment the chicken by enhancing the warm spices present in the marinade
To make your chicken nice and juicy, sear one side for a minute on high heat, flip the meat, put it on low heat, and cook with a cover for 10-15 minutes. Then, leave the chicken in the covered pan for ten more minutes, and your chicken will be perfectly moist!
In Mozambique they typically add lime and coconut milk to the Piri Piri sauce and marinade the chicken in this sauce! Try these additions the next time you plan on cooking this wonderful dish!
From our kitchen to yours…… Enjoy!
Chef Lisa Ruscica
Posted on: Thursday January 14th, 2016
Posted by: Lisa Ruscica