For Perfect Pickled Peppers
Pickling is back and hopefully here to stay! Pickles are now far from the only thing restaurants and food bloggers have recently been using to create fantastic and uniquely flavoured dishes. From pickled fruits like watermelons that pair beautifully with pork chops, pickled corn to go along side grilled favourites, and even have featured them as the centre of appetizers like the pickled eggplant, feta cheese, and olive oil spread with fresh bread! As you can see there isn't anything pickling can't be added to for a robust experience of perfectly balanced flavour! So, we've come up with some tips and tricks that will help in all of your pickling endeavors so that you can fully experience how broad the list is of ways that a pickled fruit or veggie can complete a dish.
For simple pickling, the major components you need are your vinegar, salt, water, and spices. These three simple ingredients however vary dependent on personal taste. While some swear by apple cider vinegar because of its balance of sweet and tangy that is called for in any good pickled fruit or veggie, the same number of people pick white wine vinegar or citron vinegar. Whatever you choose, you'll want to aim for a balanced pickling syrup. A common urban myth is that adding sugar to the mix is bad, but contrary to common belief many experts have converged on the idea of using some sugar in pickling, just no more than ¼ cup. In terms of salt, it is always best to lean towards the lighter side since the changes in temperature can alter the potency of the salt during the pickling process. Some potential spices to add to your pickling broth include: ginger, turmeric, bay leaves, mustard seeds, coriander, and garlic. However, be weary of the heavier spices if it is your first time. In other words, putting too much ginger into the mix won't ruin it, but putting too much cumin will be very overpowering in terms of flavour.
To pickle, bring all of your ingredients to boil, then after a minute or so, pour the mixture over whatever food you are trying to pickle. Place it in a jar with plastic wrap over it and allow it to sit overnight! It's as simple as it is tasty! There are so many veggies and fruits to choose from to pickle, for example some ideas to get you started include: cucumber, mushrooms, eggplant, watermelon, leeks, pumpkin, corn, mango, figs, and pears! However, how you prepare the actual fruits and veggies to be pickled is the part of the process that varies. Not only does the preparation of the fruit or veggie depend on how it takes to the pickling process, but it also depends on how you plan to serve it! Crunchy veggies such as carrots and okra for example should be softened a bit by boiling before they are pickled. On the other hand softer veggies like zucchini and cucumber, as well as all of the fruits, don't require this extra step. This easy contrast however changes depending on the atmosphere of the dish. For example if you are using the pickled carrots in a salad, you'll want to thinly slice them and then just pickle them raw to conserve more crunch. However, if you were doing something more elegant like a crudité then boil the carrots.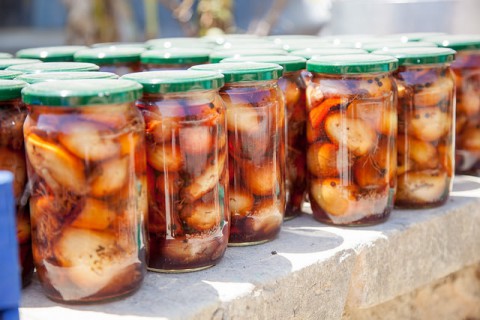 Whatever you choose to pickle with these new tips and tricks, be careful as once you start pickling your veggies and fruits, you'll never see the fruits or veggies as merely an afterthought or side dish again!
Don't forget to follow us on Twitter @kidcokitchen and on Instagram @cheflisaruscica!
Cheers,
Chef Lisa Ruscica
Chief Food Ambassador
Posted on: Wednesday September 16th, 2015
Posted by: Lisa Ruscica