The Dreaded Packed Lunch
Kids are back in school, which means that the dreaded packed lunch is back in all its bland, unchanging glory. That is, before you read this post of course! Vengeance is yours with these great and easy ideas to fight back against the dull lunch sinkhole.
Make lunch fun!  While you may want to control what your child eats for lunch each day it is good to let them have a say.  Let them pick out one item each day to put in their lunch box.  Whether it be a treat or a cookie, giving them a say in their lunch will make them enjoy their mealtime while you get to pick out the rest of their lunch ensuring you send plenty of protein and veggies!
Another way to spice up the bagged lunch is to send hot foods! Add some colour to your kid's lunch box with a quick and easy tomato soup. All you'll need for this delicious warm light lunch are tomatoes, garlic, veggie stock, brown sugar, tomato paste and basil. Add cream for a richer and creamier tomato concoction and heat up to put in your child's thermos! Check out the recipe below!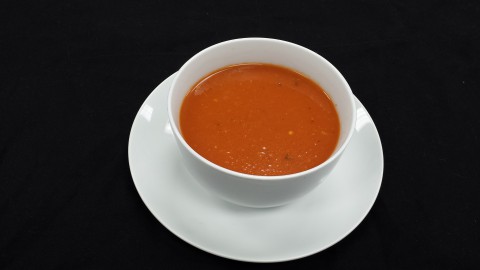 Kidco Kitchen Tomato Basil Soup
*Makes 6 portions
What you need:
-       2 cup veggie stock
-       1 tsp garlic
-       1 cup diced tomatoes
-       1 tbsp brown sugar
-       ¼ cup tomato paste
-       1 tbsp chopped basil

What to do:
Make sure to wash your hands before you begin.
In saucepan add garlic, veggie stock, tomatoes, brown sugar, and tomato paste. Bring to a boil.
Reduce heat and simmer for 15 minutes until slightly reduced.
Using a blender, puree the soup, adding basil in the final stage.
Serve ½ cup sized portions.
Don't forget to follow us on Twitter @kidcokitchen and on Instagram @cheflisaruscica!
Cheers,
Chef Lisa Ruscica
Chief Food Ambassador
Posted on: Wednesday September 9th, 2015
Posted by: Lisa Ruscica