Fun with Falafels!
This summer we have added a delicious vegetarian falafel dish to our Kidco Kitchen menu! Our falafels are made from whole simple ingredients, but still capture that rich Middle Eastern flavour! Falafels are traditionally an Egyptian dish consisting of Fava beans or Chickpeas and spices. Falafels made their way north from Egypt through the city of Levant and became a popular dish for Christians abstaining from meat during Lent!
Falafels are not only fun and delicious, but are a great nutritional dish! Our chickpea falafels are packed with protein, an essential building block for muscles.  On top of being a great vegetarian protein dish, a 1/2-cup portion of falafel contains 3.42 milligrams of iron and 585 milligrams of potassium, which is 12 percent of your daily need!  Our yummy falafel balls are served on a whole wheat pita and drizzled with our made from scratch Yummy Yogurt Dip! This is a quick and easy dish to make at home with the kids, see the Kidco kitchen recipe below!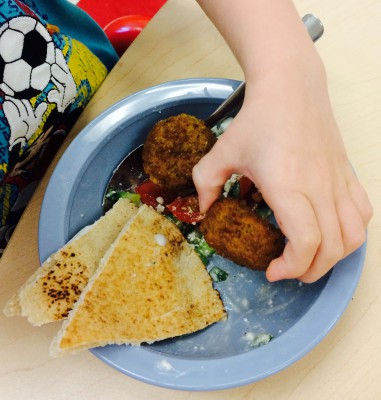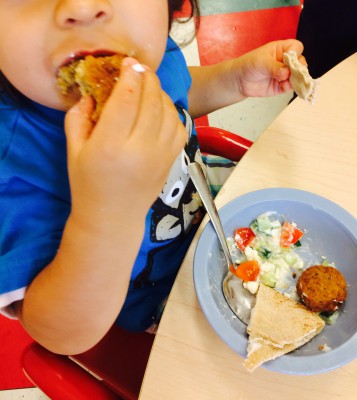 Kidco Kitchen Falafel with Pita
*Makes 6 portions
What you need:
-       2 cups chickpeas
-       ¼ cup diced onion
-       ¼ cup cilantro
-       ¼ tsp cumin
-       ¼ tsp sweet chili powder
-       1 tsp olive oil
What to do:
Be sure to wash your hands before you begin.
Put all ingredients into a food processor or blender. Pulse until everything is finely processed and combined without being pureed. The mixture will be slightly wet and hold together well.
Form until balls and spread onto parchment lined baking sheet. Bake for 20-25 minutes until golden brown. The Falafels should be crispy on the outside and soft on the inside.
Enjoy!
Cheers,
Chef Lisa Ruscica
Chief Food Ambassador
Posted on: Wednesday August 13th, 2014
Posted by: Lisa Ruscica