Tasty Tomatoes!
Canada has amazing fresh from the vine tomatoes all summer long!  Tomatoes are a staple in the summer time whether you are adding them to salads, hamburgers, or simply eating them sliced with your breakfast.  The Kidco Kitchen has been taking advantage of the delicious local tomatoes in our chili's, salsa, jambalaya, sauces and more!
Tomatoes are thought to have originated in Peru and while they are botanically a fruit, they were classified as a vegetable in the late 1800s so it could be taxed under custom regulations! There are more than 7500 tomato varieties grown across the world, the most popular in North America being globe tomatoes, followed by heirloom and cherry tomato varieties. Heirloom tomatoes tend to produce more natural and flavourful fruits. Cherry tomatoes are small, round, cherry-sized fruits and are commonly featured in Italian and Greek cuisine. Tomatoes are a nutrient dense food and have a proven range of health benefits. The antioxidants present in tomatoes are proven to be protective against cancers, including colon, prostate, breast, endometrial, lung, and pancreatic tumors. Lycopene is a unique phytochemical present in the tomatoes, that when cooked, has been shown to act as an internal sunscreen helping to block UV rays. Additionally, tomatoes are rich in fibre, vitamins A, E and potassium.
Tomatoes can be easily damaged and should be chosen with care at your grocery store or local farmers market. A perfect tomato will have an intense red colour and give way slightly when you squeeze it. After picking up some local tomatoes Kidco Kitchen recommends trying Martha Stewart's delicious Heirloom Tomato Bruschetta!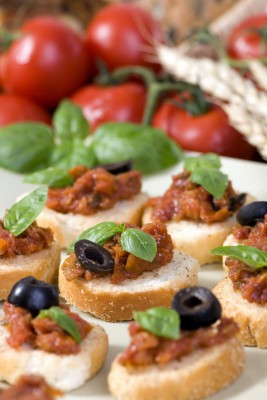 Heirloom Tomato Bruschetta
What You Need
4 pounds assorted heirloom tomatoes (preferably a mix of colors), cut into 1/2-inch pieces
2/3 cup extra-virgin olive oil
Coarse salt and freshly ground pepper
2 baguettes, cut in half horizontally
2 garlic cloves, peeled
1 large red onion, quartered and thinly sliced
2 cups fresh basil leaves
What to Do
Preheat grill or broiler to high. Combine tomatoes, oil, 1 tablespoon salt, and pepper to taste in a large bowl.
Toast cut side of baguette halves on grill or under broiler 1 to 2 minutes. While still hot, lightly rub cut surface with garlic. Spoon tomato mixture over bread with a slotted spoon, then add onion. Tear basil into pieces, and scatter on top. Slice each baguette half into 3- or 4-inch-long pieces (about 12 slices per baguette).
Cheers,
Chef Lisa Ruscica
Chief Food Ambassador
Posted on: Thursday August 21st, 2014
Posted by: Lisa Ruscica