Kidco Kitchen Curriculum!
We are super excited about launching our new nutrition curriculum program across the country! We believe nutrition education is integral to children continuing on a path of healthy eating throughout life. Our curriculum focuses on teaching children where food comes from and the basic knowledge of food groups, vitamins and minerals. We will be launching the curriculum this week where the children will be learning all about carrots!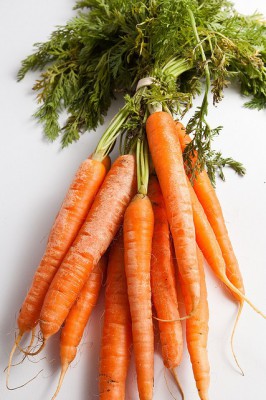 They will have the opportunity to grow carrots in their class room to help better understand the farming process. They will also be learning about Vitamins A, B, C, K and the importance of carrots to eye health! We believe that the children will respond positively to this education, and even take some their new found knowledge home to the dinner table with them! In March we will be celebrating nutrition month by teaching the children about the five food groups on Canada's Food Guide: vegetables, fruits, protein, grains and dairy! Stay tuned to learn about our monthly curriculum topics.
In honour of our new curriculum launch, here is a delicious carrot ginger soup recipe from the Kidco Kitchen for those chilly winter days!
Carrot Ginger Soup
*Makes 6 portions
 What you need: 
-          2 cups of diced carrot
-          1 cup of diced onion
-          1 minced garlic
-          2 Tbsp. veggie Oil
-          1 Tbsp. ginger
-          4 cups of veggie stock
What to do:
Be sure to wash your hands before you begin.
Peel carrots and cut into small cubes. Mince ginger and chop onions and garlic.
Heat oil in a pot and add carrots, ginger, onions and garlic. Stir occasionally, until carrots and onions are cooked, about 5-8 minutes. Add veggie stock and bring to a boil.
Blend with a hand mixer until smooth and serve.
Cheers,
Chef Lisa Ruscica
Chief Food Ambassador
Posted on: Wednesday February 4th, 2015
Posted by: Lisa Ruscica