Super Slow Cooker!  
With winter in full swing, it is time to bring out the slow cooker! They offer a healthier, low-fat method of cooking and require a minimum amount of effort.  To get even more ahead prepare your slow cooker the night before, leave in the fridge, and simply plug in and switch on in the morning! By slow cooking fresh food, it actually allows most food to retain nutrients better, as well as gives you the natural juices and flavour from meats. In addition to being an easy way to provide warm nutritious meals for your family, they provide an easy clean up.  Here are some of the Kidco Kitchen's favourite slow cooker ideas!
One of the most staple slow cooker dishes is the pot roast. Slow cooking the pot roast for 6-8 hours on medium heat results in a deliciously tender and flavorful classic dish. Add thyme, rosemary, ground pepper, chives and garlic for extra flavour! Martha Stewart Living has a variety of delectable slow cooker dishes including a mouthwatering Sweet and Spicy Chicken. This simple dish uses ginger, cumin and cinnamon to take it to the next level! A great way to use up fresh vegetables in your fridge is in a slow cooked beef stew. Simply add whatever veggies are in your fridge, carrots, celery, tomatoes, peppers and even spinach! This will help cut down waste while providing a hearty and nutritious meal for your family. Slow cookers can be used for more than just stews and roasts. Martha Stewart's Greek stuffed peppers are sure to impress your family and friends. Simply slow cook your stuffed peppers on high for 4 hours for a colourful and flavourful side dish. Check out these slow cooker recipes and more here. In the meantime, try making our Kidco Kitchen Beef Barley Stew for your next slow cooker meal!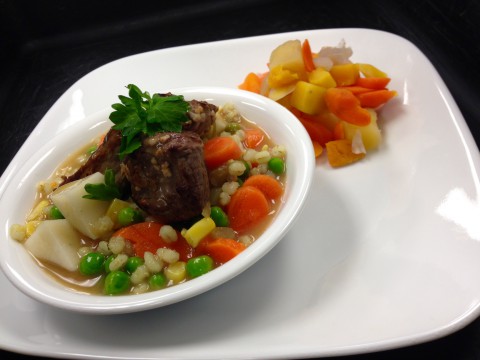 Kidco Kitchen Beef Barley Stew 
*Makes 6 portions
What you need:
-       3 cups stewing beef
-       2 tbsp veggie oil
-       2 tbsp diced onion
-       ¾ cup diced tomatoes
-       2 cups veggie stock
-       ¾ cup pearled barley
-       ½ tsp thyme
-       ¼ cup diced potatoes
-       ¼ cup diced carrots
-       ¼ cup diced celery
-       ½ tbsp. garlic
What to do:
Make sure to wash your hands before you begin.
In a large skillet, brown beef and onion in oil until meat is no longer pink; drain. Transfer to your slow cooker
Add the broth, barley, thyme, tomatoes and potatoes to the slow cooker. Cover and cook on low for 4-5 hours or until barley, beef and vegetables are tender.
Enjoy!
Cheers,
Chef Lisa Ruscica
Chief Food Ambassador
Posted on: Wednesday February 11th, 2015
Posted by: Lisa Ruscica