Kidco Kitchen Spiced Pumpkin Loaf!
The smells of falling leaves on a dewy ground, squashes roasting and cinnamon floating in the air remind us that this is the fall season.  Here at Kids & Company our fall menu most definitely encapsulates all of these experiences because we realize how special the feeling of fall is! One of the new items on our menu for the kiddies in this festive atmosphere is a Pumpkin Spiced Loaf that is sure the incite memories of pumpkin patches and falling into leaf piles!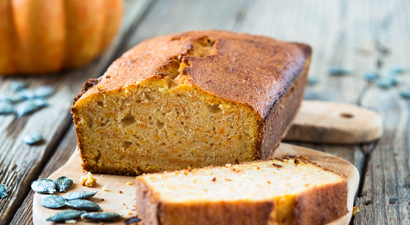 Not only will our delicious new loaf enhance the feeling of fall, but it will keep them healthy and able to fight off any bad weather that comes their way! Pumpkins are a great way to get an energy boost and contain lots of potassium that will be sure to keep your kids full and focused throughout the day! Additionally, pumpkins are a great for your immune system, as they contain high amounts of Vitamin C and they are great for your child's eye health because of their high Vitamin A content. In fact, just one cup of cooked, mashed pumpkin contains 200 times the recommended daily intake of this visionary vitamin! So enjoy this amazing treat at home knowing that it is healthy and a wonderful addition to this perfect season!
Check out the Kidco Kitchen delicious featured recipe for Spiced Pumpkin Loaf here!
For some additional tips try adding a cream cheese icing as a delicious cool topping!
Don't forget to follow us on Twitter @kidcokitchen and on Instagram @cheflisaruscica!
Cheers,
Chef Lisa Ruscica
Chief Food Ambassador
Posted on: Wednesday October 14th, 2015
Posted by: Lisa Ruscica