KIDCO WEBSITE LAUNCH & NUTRITION MONTH!
The New Year has brought along fresh and new initiatives for the Kidco Kitchen. We are proud to announce and excited to unveil our brand new website! The Kidco Kitchen profile on the Kids & Company website has been redesigned with a whole bunch of information that you have been looking for.  On the website parents will have access to our menu, ingredient lists, featured recipes, blogs, recommended resources and more!  The website will provide all the information you need to see what your little one is eating every day. Our website was designed by an amazing parent at Kids & Company, Isabelle Veilleux coordinating with our in-house marketing team.   Please check us out at kitchen.kidsandcompany.com!
This month is Nutrition Month in Canada and the Kidco Children will be learning nationally all about the different food groups through our proprietary curriculum program! There are five different food groups on the Canada's Food Guide: Vegetables, Fruit, Protein, Dairy and Grains. The children will be reviewing the basic concepts of the Canada Food Guide and will be engaging weekly in interactive activities, games, songs and stories to encourage them to continue to eat healthy building healthy bodies and minds.  We have enjoyed an overwhelming positive response to our nutrition curriculum program from our parents and most importantly our little Kidco eaters!!!
If you would like to learn more about Nutrition Month visit the Dietitians of Canada's website.  The focus this month is on healthy eating the in workplace.
Granola is a featured recipe on our new Kidco Kitchen website and is a Kidco favourite!  Click here to see the recipe so you can try this yummy snack at home with your family.
Don't forget to follow me on on Instagram @cheflisaruscica for more food tips, pics and yummy recipes!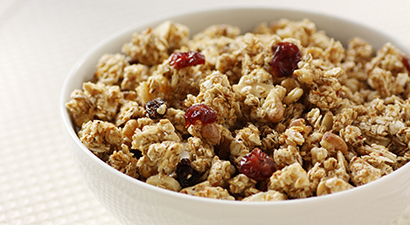 Cheers,
Chef Lisa Ruscica
Chief Food Ambassador
Posted on: Thursday March 5th, 2015
Posted by: Lisa Ruscica