Meet the Parents: Real Families Talk About the Journey of Parenting
With over 100 child care and early learning centres across Canada and the US, Kids & Company is partnered with a lot of parents and we are proud to be part of 'The Village' that it takes to raise children. Even though each child, parent and family is so unique, there are a number of universal aspects that we want to share and celebrate by telling our families' stories.
We are pleased to add to our Meet the Parents series with the Burns family:
Sean and Natalie, like most parents, had to adjust their work-life balance once daughter Hanalei was born. In addition, their family moved countries and cities several times by the time they were joined by a second daughter, Melia. After moving to Natalie's hometown of Winnipeg, a friend recommended Kids & Company, where their two boys attended, and the family found a good fit with their youngest attending on a flexible schedule.
In 2016, an opportunity arose in Victoria, BC. The family was on the move, and Natalie called the Centre Director of Kids & Company in Victoria for help. As anyone who has moved cities knows, finding housing, taking on a new job, and getting older children settled in a new school means a busy and stressful few weeks. Kids & Company was able to seamlessly transition Melia from her Winnipeg Centre to her "new school" at Kids & Company Uptown. The familiar layout, curriculum, and even staff uniforms helped Melia quickly adjust and LOVE her new Kids & Company location. Moving between Kids & Company locations meant that the stress and time required to find appropriate childcare was completely eliminated, allowing Sean and Natalie to focus on meeting their family's other needs.
We caught up with Natalie to learn about her family and find out how she has approached parenthood, careers and relocations.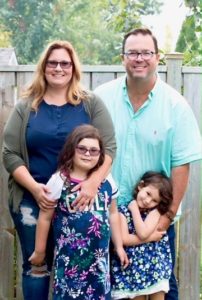 Q: Tell us first about your children.
A: Our daughters are a delight! They are both wonderful, and very close, despite being opposites in many ways. Our daughter Hanalei is seven and a half. She has always been contemplative, careful and responsible. She is extremely compassionate and soft-hearted, which makes us so proud. Hanalei loves all things sparkly and princess-y! She is into fashion and loves to play with fabric, draping and pinning it to create elaborate dresses and trains. She loves dance, gymnastics and baking. Her perfect day would be spent at home with family and a playdate. Melia is a firecracker! She is a bold and adventurous four year old with a strong opinion (usually backed by a logical argument)! She wants to be like her big sister, so enjoys a lot of the same things, especially dress-up. However, when left to her own devices, Melia is more likely to choose toys like blocks or start climbing a tree. Her perfect day would have a lot of activity and involve a lot of candy! We are so proud of her determination to master big jobs on her own.
Q: What are your favourite things to do as a family?
A: Our girls really enjoy gymnastics, dance and swimming and we work to be supportive of those pursuits. We also love to be involved in community organizations and events, and do outdoor things like fishing and hiking.
Q: What is important to you to instill in your daughters?
A: We are excited to be raising confident young women.  Parents today are extremely aware of how they want to support social, emotional and cognitive development. In addition, we want to instill character, a work ethic, and perseverance through difficult challenges. However, at this point in time the world is a big place and kids these days have a lot on their plate - we want to make sure they have lots of freedom to be a kid and live in the moment, the way we did when we were young!
Q: What were the biggest challenges you and Sean faced when you became parents?
A: We have overcome a lot of challenges in parenting, including health concerns with our oldest daughter. If you have your health, you have everything! At the same time, we also recognize tradeoffs and the cost of our decisions much more than before we had children. Early in my career I was happy to sacrifice personal time, but once you have a family you think about how every opportunity or decision will affect everyone in your family, especially your children.
Q: What kind of advice would you give to new parents?
A: The best advice I can give to new parents is to be very selective in taking advice! There is plenty of information out there, and lots of advice from family and friends, but ultimately having a child join your life is an opportunity to really get to know your family dynamics, values and what works for you. This takes a bit of time! Regardless of the decisions you make about sleep, work, eating habits and education, parenting is a big job, and more manageable (and fun!) if you can find a tribe. We have not been fortunate enough to have family living in the same city, so we have cultivated friendships, a long list of emergency babysitters, and accepted help when it is offered, even if it feels awkward. The most helpful information that I was given was that "it gets easier"! A first baby, a new child and various stages (no sleep! teething! potty training!) can be very hard, but it does get easier - and you become a more confident, resilient parent.
Q: Tell us about your work (Natalie) and how you got to where you are.

A: I work in the field of social policy research. After completing a Master's Degree in Economics, I joined a research company in Winnipeg and evaluated a range of programs primarily in the areas of employment and poverty reduction. I went on to hold positions both in government and private practice, conducting and managing projects studying social issues, as well as health, education, justice and environmental issues. I now work for one of the largest evaluation companies in Canada, and oversee projects as well as corporate operations. I have benefited greatly by having the opportunity to take on contract work and maintain relationships with my employers when I chose to take time away from full-time work after the birth of each of my daughters.
Q: What initially drew you to Kids & Company as a partner in raising your daughters?
A: We visited Kids & Company on a friend's recommendation. We realized it was a great fit for Melia, who was about one year old at the time. It's a reliable, consistent and high-quality program.  We like the art and music programming and that it is play-oriented and allows kids to explore. As parents, we have faith in the staff, we like the open-plan layout (with doors open and classrooms visible) as well as the webcam! We feel we are always able to see how the day is unfolding and never worry about our child's safety.
Q: What are some of the things that stand out to you with your centre?
A: We love so many things about our Centre – the bright, school-like setting, the teachers, and the high quality, healthy and varied menu. Our daughter has close relationships with friends and teachers and feels very much at home at Kids & Company. We also believe that her ultra-healthy eating habits have developed because of the meals and snacks provided during the day.  Between the gourmet meals and time spent exploring art, yoga and music, we sometimes joke that it is like a "baby spa"!
The fact that the care is consistent between centres has also served us in our relocations. Our Centre Director is extremely helpful when our work requires changes to care or travel. Our daughter can even go to Winnipeg to visit grandparents and seamlessly spend some days at the Kids & Company there. We have recommended Kids & Company to our friends here in Victoria and in other cities!
Posted on: Monday September 17th, 2018
Posted by: Melissa Sawatzky