Scoop Don't Slurp!
While for many years there have been smoothies you can slurp up from a straw, the new and fun way to eat these is in a bowl! We have incorporated this fun trend into our new summer menu that we call our Strawberry Smoothie Bowl! The ingredients include strawberries, milk, and vanilla yogurt, and you can choose to add some extra chia seeds, spinach, and avocado to spice things up a little. To further boost your nutrient intake, top with goji berries, hemp hearts, poppy seeds, cacao nibs, chia seeds, or toasted coconut!
Although this seems like a simple recipe, the ingredients have more than one benefit to them. Strawberries for example are not only high in fiber, but they also promote bone health because of their high potassium, vitamin K, and magnesium concentration, making this smoothie bowl a great snack for kids in particular! Adding spinach or avocado to a smoothie bowl enhances the amount of protein your child receives, along with other important vitamins and minerals like iron, calcium, and fiber. Not only is this snack extremely healthy, but it is also very filling, and don't forget to add yummy toppings! This summer your kids will not only be smiling because of the good weather, but they will also be happy because of the awesome new food they will be getting from our Kidco Kitchen!
This summer cool down with the Kidco Kitchen's featured recipe Strawberry Smoothie Bowl and have your kids decorate with their favourite toppings!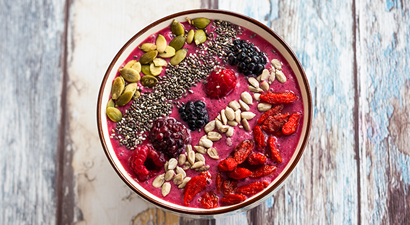 Don't forget to follow us on Twitter @kidcokitchen and on Instagram @cheflisaruscica!
Cheers,
Chef Lisa Ruscica
Chief Food Ambassador
Posted on: Thursday July 23rd, 2015
Posted by: Lisa Ruscica