Elongating the Long Weekend!
Everyone loves long weekends; they mean extra time in the pool, outdoors, and most importantly, special moments with your family. If you're going away for this long weekend then the two biggest things you're probably worrying about are: first, how to avoid cottage traffic, and second, what to bring to eat that is easy to make so that it won't take away from both the family fun and adult time after the kids are in bed.  While we can't help you too much with the first, the latter just so happens to fall within our expertise!
Everyone will tell you that the first step in making your long weekend seem longer is to precut your vegetables before you leave. The tricky part, though, is that not all raw, cut veggies are created equal in the refrigeration departments. In other words, some vegetables keep better than others once cut. For example, eggplants, cauliflower, and beets are not vegetables that keep well. Broccoli keeps very well when cut and raw, but just make sure that whatever packaging you decide to use for them is not airtight. This may seem odd, but it actually allows the broccoli to stay fresher when it is able to breathe! Another favourite veggie that is an awesome option for bringing with you as it will stay better for a longer amount of time once cut are carrots! The only thing that we recommend is wrapping them in a paper towel before putting them in a non-airtight means of storage.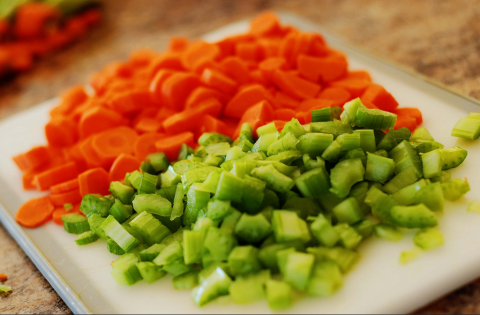 Another great way to speed up the cooking process is to prepare your meat ahead of time so that you are ready to throw it on the grill or stove when dinner time comes! Meat can actually be refrigerated in an oil based marinade for up to 24 hours without going bad. So the night before, cut off the excess fat, pound your meat, and you're all set for the next night's meal!
If you do get stuck in traffic, bring along lots of water and yummy healthy snacks for the whole family to enjoy. Kale chips are so easy to make and are a great, delicious snack filled with a low cholesterol and Vitamin K that the whole family can enjoy on the road!  Try making trail mix for an easy, fun snack! Here at Kids & Company we make one with shredded coconut, Cheerios, and raisins! Don't forget to toast the coconut!!!
Here at Kids & Company we understand that these long weekends are very important for working families as it is a chance to reconnect after a busy week by just spending more time together. We hope that these tips help to speed up the prepping time, and can allow you more sitting time around the dinner table for more laughs, more smiles, and more happiness!
Don't forget to follow us on Twitter @kidcokitchen and on Instagram @cheflisaruscica!
Cheers,
Chef Lisa Ruscica
Chief Food Ambassador
Posted on: Wednesday July 29th, 2015
Posted by: Lisa Ruscica