The Grain Game
Nutrition month has been a HUGE success nationally!!!! We are overwhelmed with the positive response from the children, site directors and parents.  It is so exciting to have children expanding their pallets, trying and learning all about new foods.  This month we used the Canada Food Guide to teach them all about Veggies & Fruit, Proteins, Dairy and Grains by focusing on three main areas:  where food comes from, exploring foods through the senses and how food affects our bodies. Between the ages of two and four children absorb information at an incredible rate especially when it comes to food!  Through our curriculum, we have expanded on the concept that eating food is important because it contains energy which is essential for play and learning.  We cannot transform your pickiest eater but it will encourage them to think about food in a wider context.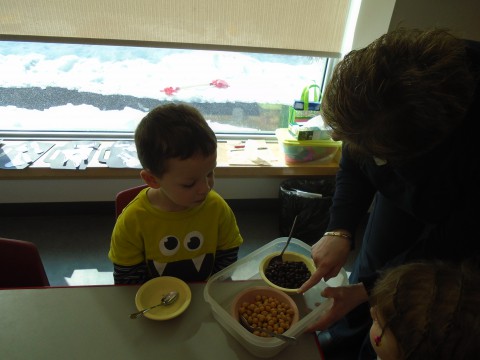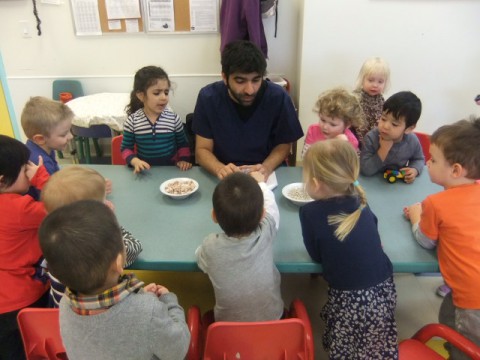 This past week we have been learning all about the Grain Game and a complete review of the past three weeks, participating in games involving lessons learned this month.  The children are sorting imitation foods into the various food groups they belong to reinforcing the concept of eating a well-balanced diet.  Each one of the children are receiving a Kidco kitchen nutrition certificate that they will  bring home and share with their parents to show them everything they have learning during nutrition month.  Make sure you ask them lots of questions because your little ones are eager to share all their new knowledge about food.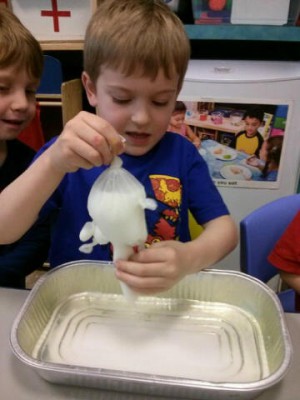 This upcoming month of April, the children will be learning all about BEANS! The Bean Bonanza curriculum is packed full of many exciting learning and tasting experiences.  The children will be growing beans, learning about beans as a protein alternative and reading all about Jack and the Beanstalk.
Try this yummy wheat berry and strawberry salad that we are serving on our Spring Menu at home.  Let me know if the children enjoy it!
Kidco Kitchen Wheat Berry & Strawberry Salad
*Makes 4 portions
Ingredients:
Wheat Berries
2 cups wheat berries, rinsed and drained
4 cups veggie broth
4 cups of water
½ teaspoon salt
Dressing
½ cup orange juice
¼ cup extra-virgin olive oil
½ teaspoon salt
Toppings
10 medium strawberries, hulled and chopped into 1/4 inch pieces
2 ounces goat cheese crumbled (¼ cup)
What to do:
Make sure to wash your hands before you begin.
In a large saucepan, combine the wheat berries, veggie broth, 4 cups of water and salt.  Bring to a boil.  Reduce heat so that the liquid simmers, cover the pan and cook until berries are tender (60-70 minutes). Drain wheat berries and set aside to cool.
For the dressing: mix together the orange juice, olive oil and salt.
In a salad bowl pour the dressing on the wheat berries and add strawberries and goat cheese. Toss until all ingredients are coated.
Cheers,
 Chef Lisa Ruscica
 Chief Food Ambassador
Posted on: Thursday March 26th, 2015
Posted by: Lisa Ruscica