Maple Syrup & Sticky Sap
What is the best thing about homemade pancakes on a Saturday morning?? The maple syrup of course!!! We should be proud as Canadians because we produce 71% of the world's pure maple syrup, 91% of which is produced in Quebec. Canada's maple syrup producing regions are located in Quebec, Ontario, New Brunswick, Prince Edward Island and Nova Scotia. Elmira, Ontario has the world's largest single day maple syrup festival recognized by the Guinness Book of Records!
Maple syrup has long been part of Canada's culture through the early settlers learning how to harvest sap and boil it to make maple syrup. In springtime, when the nights are cold, water from the earth is absorbed into the maple tree. During the daytime, the warmer temperature creates pressure that pushes the water back down to the bottom of the tree, making it easy to collect the trees' sap. The sap is gathered over 12 to 20 days, usually between early March and late April, depending on the region. After harvesting, the sap is transported to a sugar house where it is boiled down to become real maple syrup. During the cooking phase, storage pipes send the sap to a long and narrow ridged pan called an evaporator. As it boils, water evaporates and becomes denser and sweeter. Sap boils until it reaches the density of maple syrup. To make only 1 litre of maple syrup it takes approximately 40 litres of maple sap! That's a lot of sticky sap!!  For more information on maple syrup click here.
Maple syrup is also a healthy alternative as a sweetener to a variety of dishes. Maple syrup is often used in desserts and baked goods but we have tried it as a glaze on salmon and the results were fabulous!  Check out our Maple Glazed Salmon Recipe below! Don't forget to follow us on twitter @kidcochildcare and on instagram @cheflisaruscica!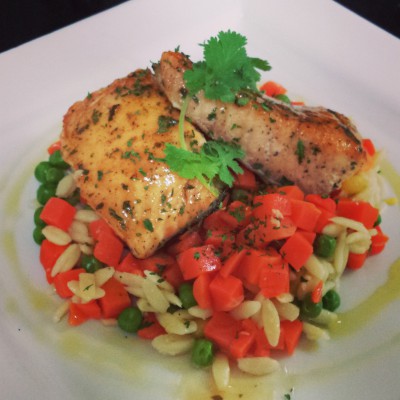 Kidco Kitchen Maple Glazed Salmon
*Makes 6 portions
What you need:
-       6 4oz pieces of salmon
-       Half cup of pure maple syrup
What to do:
Be sure to wash your hands before you begin. Pre heat oven to 400°f.
Place parchment paper on a baking sheet.
Place salmon on baking sheet evenly spaced.
Using a pastry brush, lightly coat the salmon with the maple syrup.
Bake salmon for 20 minutes. Half way through cooking time brush salmon with maple syrup.
Cheers,
 Chef Lisa Ruscica
 Chief Food Ambassador
Posted on: Thursday April 2nd, 2015
Posted by: Lisa Ruscica