Tips to Get Your Little Ones Trying New Foods!
As a mother myself, I remember the days when my children did not want to try that scary new food item that had shown up on their plate for dinner. Young children can be your toughest crowd. Lots of parents have a tough time trying to get their little ones to try new foods and flavours. Take a look at some of my best tips to get your children trying some new foods… and hopefully enjoying it too!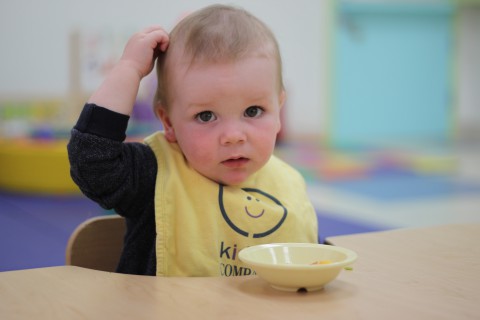 1) Involve your children right from the beginning!
Most people do not like being told to do. Instead of telling your children what to eat, why not let them make some of the food choices? Plan a grocery list with them, bring them to the grocery store, and even have them help with the cooking. Children, even little ones, love a little responsibility.
If you make them feel like they had a lot to do with the food that was chosen, you'll see just how much more willing they are to try it! Why not pick a new fruit and vegetable with your child to try? You can look up something new every week, let them make the final choice, and have them help you pick it out at the grocery store.

2) Lead by example
Remember, your children love to be just like you! Make sure you are trying new things and eat everything that they do. If you are picky about eating something, why would they want to try it? Try enjoying family-style meals together. Sit at the table with your children. Bring the food to the table in serving bowls and have your children scoop their own portions and pour their own milk or water. You can always show them first yourself, and then have them try it. A little mess today, goes a long way! It helps to get them trying a little bit of everything. You can even get them to scrape off their own plates when the meal is done.
3) Remember to focus on a large variety of textures, flavours and colours.
 Children rely on their senses more than adults. Make sure what you are creating appeals to them in colour, smell and texture. Try to make it look good too! If it looks "yucky" you know that's what your child will be thinking. And don't think you can surprise them with the same dish next week. A child's long-term memory is developed early on, so they'll remember that less than appetizing looking meal.
4) Take traditional recipes and add components that increase the nutritional value
Try taking recipes that your children already love and adding just that extra bit of nutritional value. For example, test out a Tofu Mac & Cheese for dinner this week. We took a traditional dish that kids love and added a bit of tofu to make sure our children were getting a full protein serving during the meal. Healthy eating isn't about reinventing the wheel, just about tweaking it a bit.
Don't forget to follow us on Twitter @kidcokitchen and on Instagram @cheflisaruscica!
Cheers,
Chef Lisa Ruscica
Chief Food Ambassador
Posted on: Wednesday November 11th, 2015
Posted by: Lisa Ruscica