Veggie Pad Thai
You don't need to travel to distant and exotic places to enjoy a unique food experience.  Look to the Kidco Kitchen for a fun remedy of the winter blues by cooking up something different with sharp diverse flavours that will allow you to travel across the ocean in the middle of your dining room!
This feeling of wanderlust is that which we have attempted to conquer with our new Kidco Kitchen Veggie Pad Thai! Thai cuisine is all about the balance of sweet and spicy, creating tremendous dishes that are certain to deliver you and your family's taste buds and tummies just what they need on those cold winter evenings.  Pad Thai may actually not be a Thai dish at all! There are rumours that it is actually a Chinese dish, evident in that its full name "kway teow pad Thai" is actually in a Chinese dialect and means "Thai-style stir-fried noodles."
You like your Pad Thai spicy but your kids don't? Add a little bit of an extra punch to your dish with some chili flakes or Sriracha sauce as well as some lime juice to turn up the heat just to your liking while leaving the kids' portions spice free!   Try this new and super healthy meatless dish with your family and step out of box getting away from the normal foods and tastes to which you are accustomed for winter!  Click here or look below at our yummy featured recipe!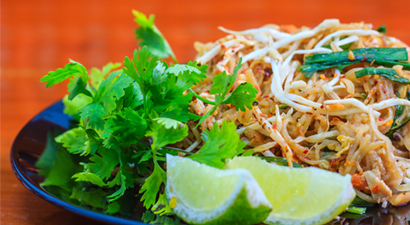 Kidco Kitchen Veggie Pad Thai
*Makes 6 portions
What you need:
-       2 Tbsp Veggie Oil
-       2 Cup Diced Tofu
-       3 Cup Cooked Rice Noodle
-       2 Tbsp Minced Garlic
-       ½ Cup Diced Onion
-       ½ Cup Edamame Beans
-       ½ Cup Diced Carrot
-       ½ Cup Broccoli
-       ½ Cup Diced Tomato
-       2 Tbsp Brown Sugar
-       ¼ Cup Soy Sauce
-       2 Tbsp Tomato Paste
-       1 Tbsp Vinegar
-       2 Tbsp Lemon Juice
-       1 Tbsp Minced Ginger
What to do:
Make sure you wash your hands before you begin.
Heat large pan over medium heat. Add veggie oil and cook tofu for 5 minutes or until browned on all sides.  Set aside.
In a bowl mix brown sugar, soy sauce, tomato paste, vinegar, lemon juice, garlic, and ginger.
Add veggie oil in a large pan and add garlic and onions and cook until translucent.
Add edamame, carrots, broccoli, tomatoes and sauce. Cook for 5-10 minutes.
Bring pot of water to boil. Add rice noodles and cook.
Drain rice noodles and add to the pan of veggies.  Add tofu and toss.
From our kitchen to yours…… Enjoy!
Don't forget to follow us on Twitter @kidcochildcare and on Instagram @cheflisaruscica!
Cheers,
Chef Lisa Ruscica
Chief Food Ambassador
Posted on: Wednesday March 2nd, 2016
Posted by: Lisa Ruscica