Very Vegetarian!
The Kidco Kitchen serves up a delicious protein packed vegetarian dish once a week to our children across the country! We cater to all different types of vegetarians at the Kidco Kitchen; from pesco-vegetarians to vegans. We believe serving one vegetarian meal a week will help to increase the children's palate to plant based proteins which offer a different nutritional punch than traditional meat proteins! Vegetarianism has roots in ancient India. In fact, currently 70% of the world's vegetarians are Indians and there are more vegetarians in India than in any other country in the world!  Vegetarians have only slightly lower protein intake than those with a meat diet and various studies around the world confirm that vegetarian diets provide enough protein if they include a variety of plant sources.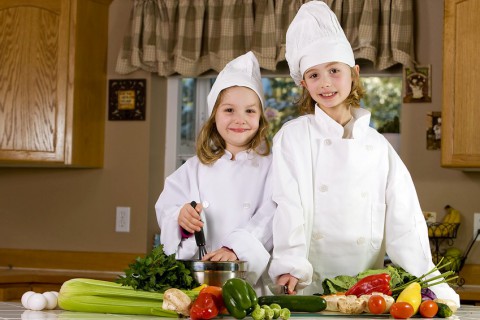 The first Vegetarian Society was formed in 1847 in England. The main aim of the members was to dispel the common belief that it's not possible to lead a healthy life without eating meat, since then the vegetarian population has only grown!  We ensure each of our vegetarian meals contain a complete protein to ensure your little ones are receiving all the nutrition they need! Some vegetarian complete proteins include: quinoa, buckwheat, beans lentils and spirunila (great in smoothies!). These proteins are high in fibre, vitamins and minerals. Beans and lentils have proven health benefits including: controlling weight, boosting enzymes, controlling blood pressure and aiding in digestive health! Try incorporating some of these plant based proteins at home and go vegetarian for a night!
Kidco Kitchen recommends trying our Sicilian Lentil Pasta at home, it is quick, easy and delicious!
Kidco Kitchen Sicilian Lentil Pasta
*Makes 6 portions
What you need:
-       1 ½ tsp olive oil
-       ½ cup diced onion
-       ½ cup diced celery
-       ½ cup diced carrot
-       ½ tbsp. minced garlic
-       ½ cup dry red lentils
-       1 ½ cup water
-       2 cups tomato sauce
-       1 lb dry whole wheat pasta
What to do:
Make sure to wash your hands before you begin.
In a large saucepan heat oil over medium heat. Add onions, celery, carrots and garlic. Cook and stir until tender, about 5 minutes.
Add lentils and 6 cups of water to vegetables. Bring to a rolling boil, stirring occasionally. Reduce heat to low; cover and cook for 45-50 minutes.
Stir in tomato sauce. Bring to a boil. Reduce heat, cover and simmer for 20 minutes.
 In a separate pot bring water to a rolling boil. Add pasta and cook until al dente, about 5-10 minutes.
Drain pasta and combine with lentil sauce.
Enjoy!
Cheers,
Chef Lisa Ruscica
Chief Food Ambassador
Posted on: Wednesday September 3rd, 2014
Posted by: Lisa Ruscica