Oakville West
Our Centre
Now accepting applications for full-time and part-time care for early 2020. Are you exploring early education and child care options for your child in the Oakville West area? Here's why you should consider Kids & Company!
At Kids & Company, we use an emergent curriculum and learn through play philosophy. We're very proud of our proprietary programs! They include Alpha-Mania (pre-literacy and early reading), Mini Masters (art), and Munchkinetics (movement) and are designed to engage our children in a learning process that encourages self-expression, creativity, coordination and most importantly, fun! We often hear children singing the Alpha-Mania theme song before the teacher even begins the lessons, a clear indication of their enthusiasm about learning through play. You'll find sign language in our baby and toddler rooms, and all our children participate in music, French, science & exploration and creative play throughout our day.
Does your family have an non-traditional or rotating work schedule? Not to worry, we'll work with you to accommodate your needs! More than just daycare, we offer flexible child care and superior early education to help families achieve a greater work-life balance!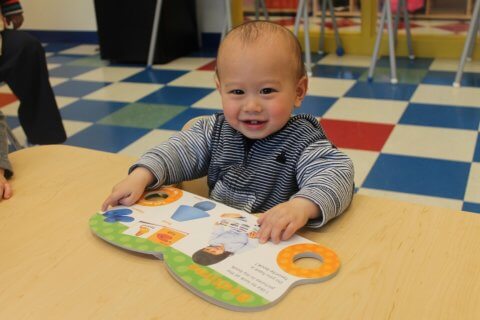 Our Centre Information
Address
Oakville West
3471 Wyecroft Road
Oakville, Ontario, L6L 0B6
Contact Information
1-866-MY-KIDCO
oakvillewest@kidsandcompany.com
Centre Hours
Monday to Friday, -
Programs Offered
Infants

At Kids & Company, we work with your family to ensure that the transition is a smooth one. Before your child's first day, we'll provide information on what to expect. We'll create an integration schedule that is right for your child and every day that your child is in the classroom, you'll receive a daily report that lets you know how your child's day was. You'll also be able to see him or her on our in classroom web cameras. The Centre Director will even send you an email before the end of the day if your child has a special "wow" moment that day.

Learn More

Toddlers

Toddlers learn best in the context of relationships within small groups. There are fewer distractions and children's activities are more focused. In Kids & Company toddler classrooms, our small groups allow very young children to make connections, form caring relationships, and learn to understand other children.

Learn More

Preschool

All two-year-olds examine everything they see, hear, feel and observe in an attempt to make sense of the world around them. In our preschool programs, Kids & Company teachers interact, observe and interpret the interests of preschool students to encourage further discoveries by planning activities and investigations that expand your child's learning.

Learn More
Tell Me More About Kids & Company
You may unsubscribe at any time