Marinades and Sauces
What is the difference between a good piece of chicken and a great one? What makes a regular plate of spaghetti, an amazing plate of spaghetti? It's all about the marinades and sauces! It is the simplest way to elevate your dishes – whether you are cooking a romantic candlelit dinner or preparing a feast for your family's Sunday night dinner.
How do you differentiate a marinade from a sauce? Marinades and sauces are essentially the same thing, however marinades are used to tenderize and flavour food before the cooking process, whereas sauces are served on the food. You can begin initially with a marinade, and then cook it on the stove top into a sauce. It is important to cook leftover marinades thoroughly as it comes in contact with raw foods. All you need to do is boil the marinade on the stove top for 10 minutes and let it reduce until it reaches the desired consistency. This method can only be done the day of, and as long as your marinade has been kept in the fridge, otherwise you risk harmful bacteria growing from the raw meat.
At Kidco Kitchen, we make all of our own marinades and sauces from scratch without any added preservatives or artificial flavours. This Spring, we are serving our famous Kidco Kitchen Best BBQ Chicken to the kiddies and they love it! Fire up the grill, and try our easy three step Kidco Kitchen BBQ sauce this weekend and let us know the verdict!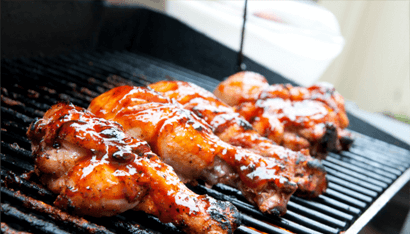 Kidco Kitchen Best BBQ Sauce

Serves: 6 portions
What You Need:
¼ cup Diced Onion
¼ cup Brown Sugar
½ cup Ketchup
¼ cup Vinegar
¼ cup Tomato Paste
2 tbsp Dijon Mustard
2 tbsp Minced Garlic
1 tbsp Veggie Oil
What To Do:
Always make sure you wash your hands before you begin.
Cook onion and garlic in veggie oil until onions are translucent.
Add remaining ingredients and bring to a boil. Simmer for 10 minutes.
Coat our BBQ sauce on chicken or any other desired food such as fish, tofu or veggies. The possibilities are endless and the taste out of this world!
Don't forget to follow us on Twitter @kidcochildcare and on Instagram @cheflisaruscica!
Cheers,
Chef Lisa Ruscica
Chief Food Ambassador
Posted on: Wednesday May 3rd, 2017
Posted by: Lisa Ruscica