My o Mia – we love papayas!
This summer has been coming in hot – literally! Papaya's also known as "tree melons" or pawpaws in Australia are a great tropical fruit to help refresh your family this hot summer. There are two types of papayas, Hawaiian and Mexican. The Hawaiian papayas are the most common and typically found in most supermarkets. The Mexican papaya is much larger and can weigh up to 10 pounds! The Mexican papaya tends to have less flavour than the Hawaiian papaya.
Both papayas share similar physical appearances, orange and pink flesh with small black seeds that cluster in the middle. The seeds resemble peppercorn and are edible. The seeds can be ground up and used as a black pepper substitute! Papaya is now ranked fourth in total tropical fruit production because it holds many nutritional benefits.
A small papaya contains 300% of the daily recommended amount of vitamin C. Therefore, papayas are useful in boosting immunity and preventing infections – these are a great winter snack when sickness is high and vitamin C is low! Papayas are also rich in vitamin B, A, E and fibre. Papayas are used in many cosmetics because they hold revitalizing agents that purify skin. Healing enzymes in papayas are helpful to treat sunburns and skin irritations. Some people rub papaya peels on their hands and face to maintain healthy skin.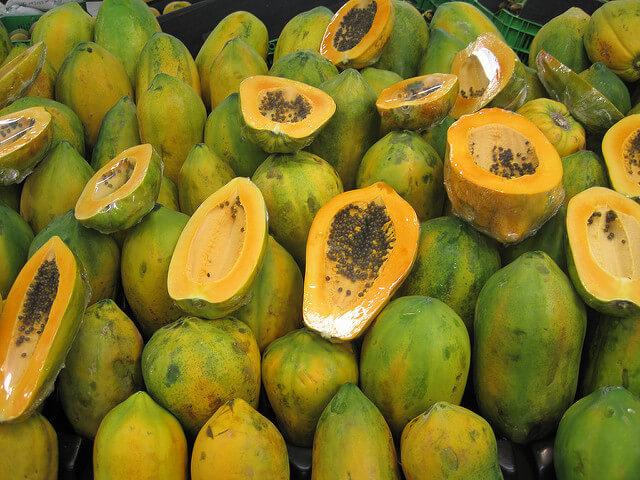 Papayas are a great road trip snack because they reduce motion sickness! The presence of vitamin C and E work together to calm effects in the stomach. Papaya's are wonderful to add to a tropical summer smoothie, eaten alone by soaking them with a little lemon juice and honey or as an ice cream! Below is a fantastic papaya lime sorbet that will be a fun family activity. This recipe is perfect to enjoy after dinner to refresh your taste buds and cool you down!
Ingredients
• 8 cups peeled, seeded and diced ripe papaya (about 1 very large or 8 small)
• ½ cup water
• ½ cup sugar
• ¼ cup "lite" coconut milk, divided
• 2 tablespoons lime juice, divided
• 1 teaspoon lime zest, divided
• 2 pinches of salt
Preparation
1. Line a large baking sheet with parchment or wax paper. Arrange diced papaya in a single layer and freeze overnight.
2. Combine water and sugar in a small saucepan. Bring to a boil over high heat, stirring constantly, until the sugar is completely dissolved and syrupy, 3 to 5 minutes. Pour the syrup into a glass measuring cup and let cool for 15 minutes. Remove the papaya from the freezer to defrost while the syrup is cooling.
3. Transfer half the frozen papaya to a food processor. Add half the syrup, 2 tablespoons coconut milk, 1 tablespoon lime juice, ½ teaspoon lime zest and a pinch of salt. Pulse two or three times then process until smooth.
4. Transfer the sorbet to a large serving bowl.
5. Repeat with the remaining ingredients; add to the serving bowl. Serve immediately or freeze until ready to use.
Don't forget to follow us on Twitter @kidcochildcare and on Instagram @cheflisaruscica!
Cheers,
Chef Lisa Ruscica
Chief Food Ambassador
Posted on: Wednesday July 25th, 2018
Posted by: Lisa Ruscica