Sensational Spring Menu!
We are super excited to announce the launch of our new Spring Menu! This season there are a lot of favourites returning along with many new and fresh changes. We have brought back some of the Kidco Kitchen Classics such as Sunshine Stew and Roaring Red Lentil Pasta. We have also added new dishes to the menu to try and expand the palates of our little ones and to introduce them to foods they might have never tried before!
Pineapple is one fruit that we have added to the Spring Menu.  This delicious tropical fruit is packed with Vitamin C and Magnesium. Tabbouleh is a Middle Eastern dish and is one of my favourite salads to eat this season – it's super refreshing and has tons of flavour!  This salad is made with bulgur, lots of fresh parsley and diced tomatoes. There is a new seed in town and it is the Chia seed! For afternoon snack, our kiddos will be enjoying Vanilla Chia Pudding. This pudding is not only delicious, but also contains omega-3 and fibre. This seed is also filled with protein to help build your children's muscles and leave them feeling satisfied. Plus it is so yummy!!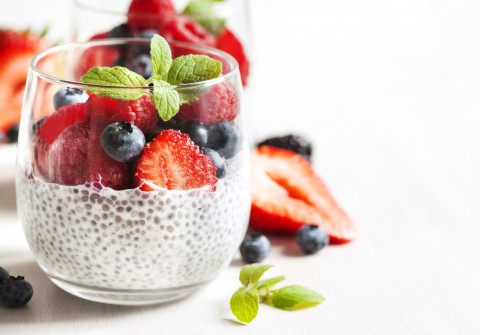 Some exciting new vegetables have been welcomed into the Spring menu! The first veggie is our Mini Pepper Pieces. Did you know that sweet peppers contain more Vitamin C then an orange? They are not only healthy, but are also a super cute snack that the kids are going to love. Sugar Snap Peas are another new addition that we love.  These crunchy pods provide a high content of dietary fibre. For lunch, we will be serving our Tiny Tomato Salad made with fresh cherry tomatoes, basil and balsamic vinaigrette.
One of our favourite new dishes on the menu is our Wheat Berry & Strawberry Salad!  Wheat berries are whole wheat kernels. The kernel is left intact and essentially all the nutrients are left inside. This salad is dressed with a zesty orange dressing, leaving a yummy and refreshing taste. We served this salad at the Kids & Company board meeting and we received a big thumbs up from everyone!!
We hope that your children will enjoy the new menu as much as we do!
Spring has sprung, so get out there, enjoy the beautiful weather and have fun with your families! :)
Don't forget to follow us on twitter @kidcochildcare and on instagram @cheflisaruscica!
Cheers,
Lisa Ruscica
Chief Food Ambassador
Posted on: Thursday May 14th, 2015
Posted by: Lisa Ruscica