The Year of Pulses!
2016 has been a big year for the food industry. More and more restaurants and food companies are shying away from artificial flavours and colours and opting for more natural and healthy foods.  Restaurants are growing their menus to include healthier options for the health conscious dinners, and the United Nations has officially declared 2016 to be the International Year of Pulses!
What is a pulse, you ask? Pulses are the edible seeds of legumes including dry peas, beans, lentils and chickpeas. They are a low-fat source of protein and fibre contributing to a healthy diet. They have high levels of minerals such as iron, zinc, and phosphorous as well as folate and other B-vitamins. As well as being nutritious, pulses are sustainable reducing the environmental footprint, affordable and versatile! Sustainable eating is becoming increasingly important as food has become genetically modified over the past century, harming our bodies and our environment. Sustainable foods are foods that are healthy for us, the soil and the animals, does not harm the environment and are humane for both the workers and the animals. Sustainable foods also support your local economy instead of large corporations that are increasing the environmental footprint.
There are so many ways to add pulses to your menu, here are a few of my favourite ways:
Add cooked chickpeas to salads to boost flavour and increase protein without the fat.
Mix black beans into salsa for a high fibre dip.
Incorporate pureed beans, peas or lentils to meatloaf to reduce the amount of ground beef and boost fibre.
Puree chickpeas or white beans with fresh herbs and use as a sandwich spread for a healthy alternative to mayo.
Increase fibre and protein content of your soups or stews by adding lentils to create a wholesome meal.
Are you suddenly craving pulses? Here's a recipe of one of the kiddies' favourite Kidco Kitchen dishes, full of pulses!!!
Kidco Kitchen Beanny Biryani
*Makes 6 portions
What you need:
-        1 Cup Lentils, Dry
-        1 Tbsp Veggie Oil
-        1 Cup Diced Onion
-        2 Tbsp Minced Garlic
-        2 Cup Broccoli, Cauliflower, Carrot, Zucchini
-        1 Tbsp Curry
-        2 Cup Brown Rice
-        ¼ Cup Raisins
-        6 Cup Veggie Stock
-        ¼ Cup Peas
What to do:
Make sure to wash your hands before you begin.
Heat veggie oil over medium heat in a large pot; sauté onions and garlic until translucent.
Add veggie stock, brown rice, curry, and dried lentils into the large saucepan and bring to a boil over high heat.
Reduce to a simmer and cook until the rice and lentils are tender (about 40-50 minutes).  Check mixture after 30 minutes and add more veggie stock if necessary and add the vegetables and raisins for the remaining cook time.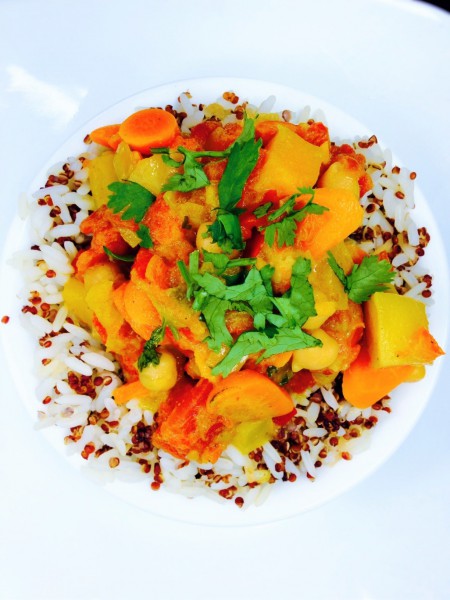 Don't forget to follow us on Twitter @kidcochildcare and on Instagram @cheflisaruscica!
Cheers,
Chef Lisa Ruscica
Chief Food Ambassador
Posted on: Wednesday October 12th, 2016
Posted by: Lisa Ruscica