Back to Work: Guilt
We asked moms and dads what they want to know about returning to work after a leave with little ones and they delivered! We broke all the questions we received into themes and have addressed them in this 11-part blog series on Back to Work in partnership with Mama Coach.
Part 8/11: Dealing with parent guilt and anxiety
Themes: Tips for dealing with 'mom guilt'? How to manage the anxiety and worry that can interfere with being focused at work. How do I balance work and home life?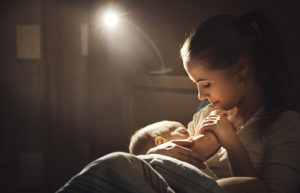 Kate Macdonald, RN & Mama Coach: Mom guilt is hard!!! Often going back to work is a "need" which makes it slightly easier on mom as you need to provide for your child. Anxiety and stress about going back to work is real and you are not alone! You will need time to adjust too! It is hard but it will get easier. You may also feel some mom guilt about enjoying some time at work and that is ok too. Communication with your child care will help with your anxiety. Balance changes from one day to the next so be kind to yourself!!! Finding what works for your family will help make the balance easier. Online grocery pickup, meal prep, and planning will help you achieve more balance and give you more time with your child.
Kids & Company: In our experience, guilt is somewhat inevitable for parents as they face a myriad of choices constantly on behalf of their little ones. If you have a partner, lean on them for support and another perspective. You can be open with your work and child care provider so they can help in whatever ways possible as you work to find the right balance. You can talk to friends and family who can relate or understand those challenges (you'll quickly find you are not alone). We like to hold workshops and events where you can connect with other parents at your centre and talk through some of these challenges. But overall, we want to assure you: the fact that you have these questions means you are a loving parent who wants the best for your little one, and your child is growing up feeling well-loved and supported.
Check out our other topics!
Part 1: Transition
Part 2: Illness
Part 3: Sleep and routine
Part 4: Adjusting
Part 5: Eating
Part 6: Friends and bullies
Part 7: Multiple children
Part 8: Guilt
Part 9: Timing
Part 10: Separation anxiety
Part 11: Weaning

_____
About Mama Coach
The Mama Coach is a team of Registered Nurses who are committed to making motherhood easier. As Registered Nurses, we have the skills and the training to give your family the quality care that you deserve. We are all Mamas too. We have been in your shoes and want to share our knowledge and want to make you feel incredibly supported. Our programs are based on science + empathy and support. We are Registered Nurses, infant and child sleep coaches, lactation counsellors, Prenatal Educators as well as CPR instructors. All packages include lactation counselling and intensive support. We offer a variety of services to help families transition into parenting which include: In home/group prenatal classes, Postpartum visits, Healthy beginnings to help support you and your newborn, sleep coaching from 3 months and up, allergy navigation and CPR.
Posted on: Monday October 1st, 2018
Posted by: Melissa Sawatzky