Back to Work: Friends and bullies
We asked moms and dads what they want to know about returning to work after a leave with little ones and they delivered! We broke all the questions we received into themes and have addressed them in this 11-part blog series on Back to Work in partnership with Mama Coach.
Part 6/11: Positive environments and encouraging friendly not bully behaviour
Themes: How is bullying handled and how do we know the kids are getting along? What if my child does not make friends well?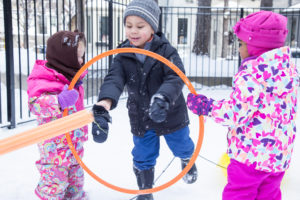 Kids & Company: Facilitating a cooperative and positive environment in a group setting isn't always easy and our directors and teachers are seasoned experts. In infants and toddlers, 'bully' behaviour might manifest as hitting, biting, yelling or chronically taking items away. These are fairly normal behaviours when verbal language is still a tool being worked on – accredited child care providers are actually encouraged to use minor conflicts as opportunities to constructively work towards resolve, so teachers will facilitate that where applicable. If negative behaviour persists, the children will be redirected away from each other and to other positive activities. With older children, we follow similar concepts but may facilitate more expression of feelings and intervene quicker if it escalates.
These issues are important to work with parents on. We use incident reports to alert parents on both sides if there is any altercation that did or could have resulted in physical injury. We also will speak privately to parents if we believe there is an ongoing issue with their child and a peer or peers – we try to shadow the children through the day to identify trigger points and nuances that lead to negative interactions and will provide this information to parents when we collaboratively work out a plan. At Kids & Company, you can also view your child on a secure webcam so you can witness what their days and interactions are like.
Check out our other topics!
Part 1: Transition
Part 2: Illness
Part 3: Sleep and routine
Part 4: Adjusting
Part 5: Eating
Part 6: Friends and bullies
Part 7: Multiple children
Part 8: Guilt
Part 9: Timing
Part 10: Separation anxiety
Part 11: Weaning
_____
About Mama Coach
The Mama Coach is a team of Registered Nurses who are committed to making motherhood easier. As Registered Nurses, we have the skills and the training to give your family the quality care that you deserve. We are all Mamas too. We have been in your shoes and want to share our knowledge and want to make you feel incredibly supported. Our programs are based on science + empathy and support. We are Registered Nurses, infant and child sleep coaches, lactation counsellors, Prenatal Educators as well as CPR instructors. All packages include lactation counselling and intensive support. We offer a variety of services to help families transition into parenting which include: In home/group prenatal classes, Postpartum visits, Healthy beginnings to help support you and your newborn, sleep coaching from 3 months and up, allergy navigation and CPR.
Posted on: Monday October 1st, 2018
Posted by: Melissa Sawatzky