Gulf Canada Square
Our Centre
This flagship centre is on the ground floor of the building featuring convenient access, large windows and natural light, and a unique and beautiful outdoor play area. In addition to the pristine learning environments, Gulf Canada Square has a dedicated gross motor space and potential for a special programs room. We have the capacity for 150 children and accept all ages including infants, toddlers, preschoolers and school-age children. Email gulfcanadasquare@kidsandcompany.com for further information and to confirm your space.
At Kids & Company, we use an emergent curriculum and learn through play philosophy. We're very proud of our proprietary programs! They include Alpha-Mania (pre-literacy and early reading), Mini Masters (art), and Munchkinetics (movement) and are designed to engage our children in a learning process that encourages self-expression, creativity, coordination and most importantly, fun! We often hear children singing the Alpha-Mania theme song before the teacher even begins the lessons, a clear indication of their enthusiasm about learning through play. You'll find sign language in our baby and toddler rooms, and all our children participate in music, French, science and exploration, and creative play. .All menus are created by our chief nutritionist and prepared fresh daily by the Kidco Kitchen. We change up our menu with the seasons to take advantage of local produce options for diversity and also to provide learning opportunities about where food comes from as part of our nutrition curriculum. We take a family-style dining approach to eating that encourages fine motor skills, independence and a willingness to try new food. 
More than just daycare, we offer flexible child care and superior early education to help families achieve a greater work-life balance..
Our Gulf Canada location will be offering the STREAM preschool program (science, technology, reading, engineering, arts, math). In addition to our core pillars, the STREAM preschool program features an emphasis on STEM learning, a Montessori approach including observations of the child, individual liberties and preparation of the environment, and elements from Kids & Company standard curriculum including Mini Masters (artistry), Alpha-Mania (early literacy) and Munchkinetics programming (movement). Children suited for the program are those with curiosity about numbers, how things work, mechanics and construction, and a sense of independence and self-direction. Please click here to find out more! Subsidies are accepted in Alberta for families who qualify. Contact the Centre Director or click here for more information from Alberta Child and Youth Services.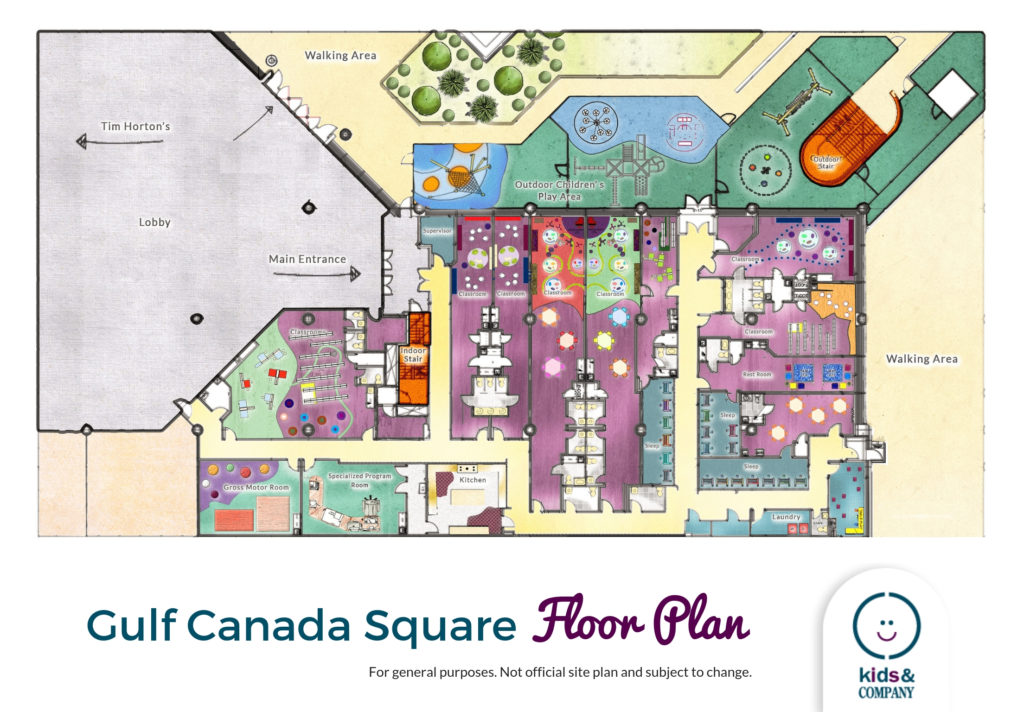 Our Centre Information
Address
Gulf Canada Square
#157, 401 9 Ave. S.W.
Calgary, Alberta, T2P 3C5
Contact Information
(403) 475-5561
gulfcanadasquare@kidsandcompany.com
Centre Hours
Monday to Friday, 7:00 am - 6:00 pm
Parking
There are three stalls designated for parent pick-up and drop-off accessible on the east end of the building - turn right immediately after passing Gulf Canada Square into the parking area and stay right (do not go up ramp). Additionally, there is short-term paid parking available by going up the ramp in the same parking area as the designated stalls. Once parked, enter through the medical office doors and come down the elevators or escalator to the centre entrance on the east side of the main floor lobby. There are also one and two hour parking spaces available along 9th Avenue (paid outside of early/late hours).
Meet the Director
My name is Myrna Manzano and I am the Director at the Kids & Company Gulf Canada centre. I have been working at Kids & Company since October of 2009, and am a recipient of a Level 3 Child Development Supervisor and Bachelor of Secondary Education diploma from the Philippines. I have loved being with children since I was in high school and have over 24 years of child care experience. To tell you a bit more about myself, I am celebrating 19 years of marriage with my husband this year and I have three beautiful daughters, Isabela, Hannah and Kristin. In my spare time, I enjoy singing and dancing, spending time with my family, watching movies and trying new restaurants. I love working at Kids & Company because it gives me the opportunity to work with children and see how they grow every day, which brings me so much happiness. Now that you know a bit more about me, I would love to meet you! I hope you come to visit our Gulf Canada centre and see for yourself how Kids & Company can provide the right care and education for your child.