Gulf Canada Square
Our Centre
Welcome to Kids & Company Gulf Canada Square! 
This flagship location is on the first floor of the Gulf Canada Square office building on 9th Avenue SW, just west of Macleod Trail. Our 10 classrooms can accommodate 150 children, making it a great option for the many parents that work in downtown Calgary. We are accessible by CTrain and bus stops as well as the Plus 15 Walkway, and there are three parking spots designated for pick-up and drop-off. 
We offer Infant, Toddler, Preschool, Kindergarten and School Age programs with the option of full-time, part-time, or backup care. Each classroom is full of age-appropriate, educational toys that support our emergent curriculum and learn through play philosophy. There are also webcams in each room so that caregivers can stay up to date on their child's day. Paired with our bright and spacious interior is a unique outdoor play area that features both sunny and shady areas for year-round use.
Children are provided with a hot lunch and 3 snacks each day, catered by our Kidco Kitchen. The Kidco Kitchen is founded on a fresh-from-scratch philosophy and our food contains no additives, preservatives, artificial flavours or colours. Learn more here.
Subsidies are accepted in Alberta for families who qualify. Contact the Centre Director for more information.
Let's Meet! 
If you're interested in our Gulf Canada Square location, please fill out the inquiry form below. You can indicate multiple locations in the comment section if you are unsure about your top choice.
Once submitted, one of our Parent Customer Care representatives will reach out via phone or email within 24 hours (48 hours on weekends and holidays). During that exchange, you'll be able to ask questions, learn more about fees, book a tour, and find the best suited location for your child.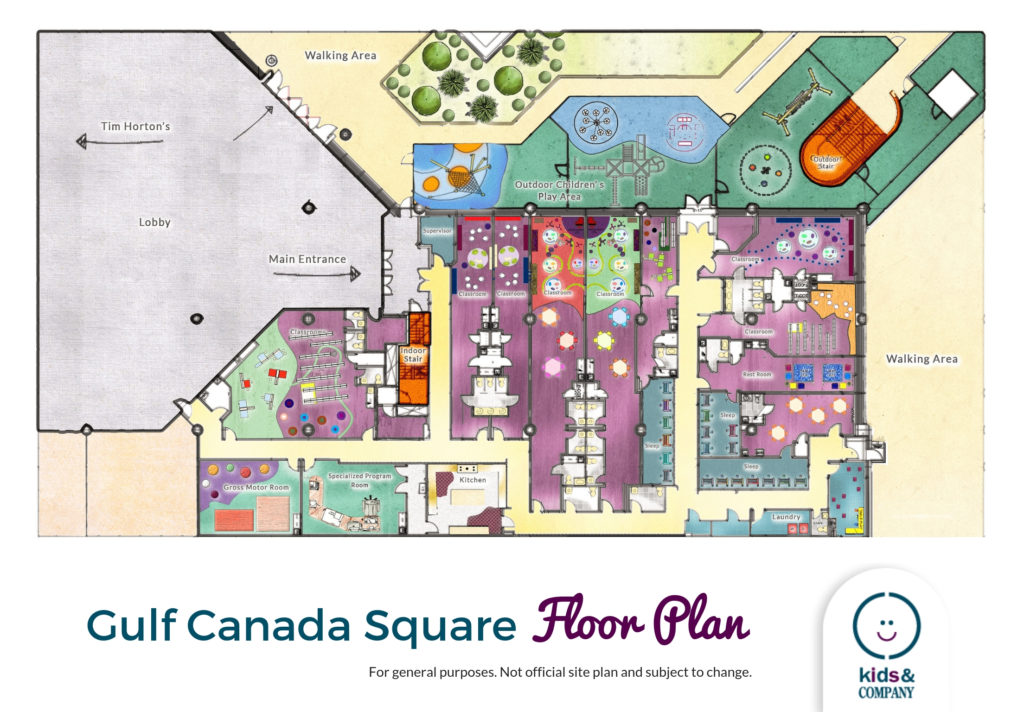 Our Centre Information
Address
Gulf Canada Square
#157, 401 9 Ave. S.W.
Calgary, Alberta, T2P 3C5
Contact Information
(403) 475-5561
gulfcanadasquare@kidsandcompany.com
Centre Hours
Monday to Friday, 7:00 am - 6:00 pm
Parking
There are three stalls designated for parent pick-up and drop-off accessible on the east end of the building - turn right immediately after passing Gulf Canada Square into the parking area and stay right (do not go up ramp). Additionally, there is short-term paid parking available by going up the ramp in the same parking area as the designated stalls. Once parked, enter through the medical office doors and come down the elevators or escalator to the centre entrance on the east side of the main floor lobby. There are also one and two hour parking spaces available along 9th Avenue (paid outside of early/late hours).
Meet the Director
My name is Myrna Manzano and I am the Director at the Kids & Company Gulf Canada centre. I have been working at Kids & Company since October of 2009, and am a recipient of a Level 3 Child Development Supervisor and Bachelor of Secondary Education diploma from the Philippines. I have loved being with children since I was in high school and have over 24 years of child care experience. To tell you a bit more about myself, I am celebrating 19 years of marriage with my husband this year and I have three beautiful daughters, Isabela, Hannah and Kristin. In my spare time, I enjoy singing and dancing, spending time with my family, watching movies and trying new restaurants. I love working at Kids & Company because it gives me the opportunity to work with children and see how they grow every day, which brings me so much happiness. Now that you know a bit more about me, I would love to meet you! I hope you come to visit our Gulf Canada centre and see for yourself how Kids & Company can provide the right care and education for your child.