Back to Work: Separation anxiety
We asked moms and dads what they want to know about returning to work after a leave with little ones and they delivered! We broke all the questions we received into themes and have addressed them in this 11-part blog series on Back to Work in partnership with Mama Coach.
Part 10/11: Managing separation anxiety and smooth morning drop-offs
Themes: Ideas for a (relatively) stress-free morning drop-off routine? How do we manage separation anxiety when we drop off at our child care provider?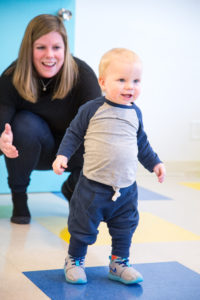 Kate Macdonald, RN & Mama Coach: Most children will cry when you first drop them off. The easiest way to say "good bye" is to give them a kiss and a hug, tell them you love them and that you are coming back at the end of the day, and then pass them to the daycare provider. Seeing your baby crying and reaching out for you is hard, but prolonging the good bye will be harder on your little one. They will quickly be distracted and settle!
Kids & Company: Consider that separation anxiety is a common part of development in older infants and toddlers under one year old. Psychologically the child fears the absence of their primary caregiver because they do not yet understand they can and will return – so starting child care or unparented activities can actually be a building block in that normal development as they begin to learn that you will unfailingly be there at the conclusion of each day. Just as Mama Coach says, give a kiss and hug, let them know you'll be back, and have your child care provider positively step in. It's hard to do, but short and sweet is the way to go to avoid prolonging a sad time for your little one and establishing a long process for goodbyes in the future. You can use tools like the secure webcam, communication with your provider and daily reports to monitor how things go in your absence – you may be surprised that once the stress of saying goodbye is over, your little one likely settles in fine and begins to build important connections to his or her secondary caregivers.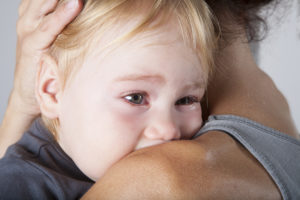 Check out our other topics!
Part 1: Transition
Part 2: Illness
Part 3: Sleep and routine
Part 4: Adjusting
Part 5: Eating
Part 6: Friends and bullies
Part 7: Multiple children
Part 8: Guilt
Part 9: Timing
Part 10: Separation anxiety
Part 11: Weaning
_____
About Mama Coach
The Mama Coach is a team of Registered Nurses who are committed to making motherhood easier. As Registered Nurses, we have the skills and the training to give your family the quality care that you deserve. We are all Mamas too. We have been in your shoes and want to share our knowledge and want to make you feel incredibly supported. Our programs are based on science + empathy and support. We are Registered Nurses, infant and child sleep coaches, lactation counsellors, Prenatal Educators as well as CPR instructors. All packages include lactation counselling and intensive support. We offer a variety of services to help families transition into parenting which include: In home/group prenatal classes, Postpartum visits, Healthy beginnings to help support you and your newborn, sleep coaching from 3 months and up, allergy navigation and CPR.
Posted on: Monday October 1st, 2018
Posted by: Melissa Sawatzky