Letting go of Lettuce
Everyone loves a summer salad, but the term salad is much looser than one may think. The majority of people who think of salad will think of lettuce, dressing, and chopped veggies. Here at Kids & Company, we like to think outside the box! Sure greens are nice, but this summer dare to do something different and delicious….. Lose the leaves!
We've introduced a salad that emulates the freshness of fruit, combined with the warm and bright colours of summer: the Watermelon and Feta Salad. Kiddies from our centres across the country are enjoying this new and interesting approach to salad on our summer menu! Watermelon is a great fruit to serve kids this summer as it is made up of 92% water keeping them hydrated in the hot heat! Feta also contains key nutrients such as calcium and vitamin B-12 that will help keep your little one's bones strong and brain healthy. This surprising, yet delicious combination of ingredients can be used as a starter salad or healthy snack.  See our fresh and simple recipe below or check it out as one of the Kidco Kitchen's featured recipe of the summer!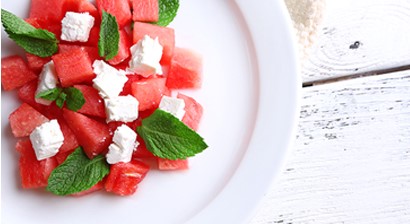 Kidco Kitchen Watermelon & Feta Salad
*Makes 6 portions

What you need: 
-           3 Cups of Cubed Watermelon
-          1 Cup of Feta Cheese Crumbled
What to do:
Be sure to wash your hands and the melon before you begin.
Cut watermelon into cubes and crumble the feta cheese.
Gently combine the watermelon & feta cheese, or serve separately.
Additional Tips:
Try adding lemon juice, red onion and fresh mint to electrify your taste buds!
For another interesting approach on this salad add arugula and dress with your favourite balsamic glaze!
Don't forget to follow us on Twitter @kidcokitchen and on Instagram @cheflisaruscica!
Cheers,
Chef Lisa Ruscica
Chief Food Ambassador
Posted on: Wednesday August 12th, 2015
Posted by: Lisa Ruscica