Kids & Company's 2022 Holiday Toy Guide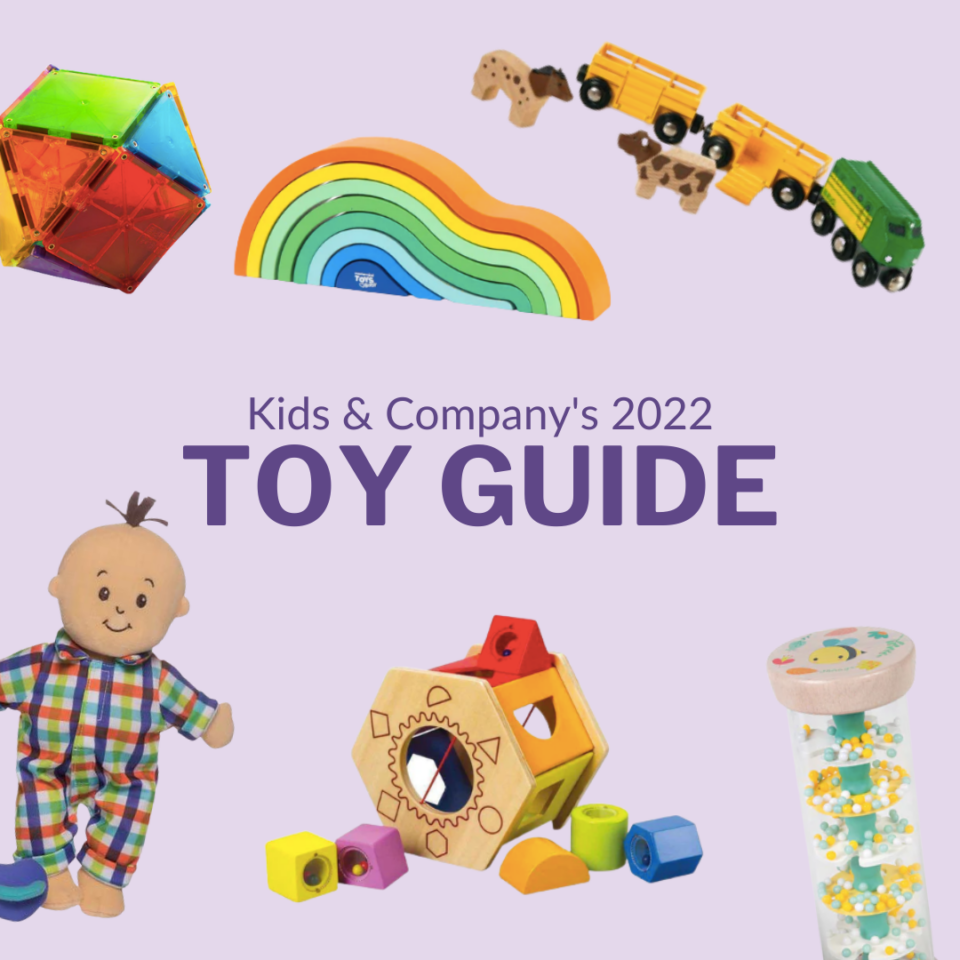 Whether it's the holidays, a birthday, or just a Tuesday, sharing a new toy with a child can create memorable moments of growth and learning. At Kids & Company, we believe that through play, all areas of development are fostered.
With holidays around the corner, we're sharing our 2022 Toy Guide, curated by Kristine Grant, Kids & Company's Director of Learning Environments. Kristine, along with her team of educators, is responsible for shaping the education of our roughly 10,000 children nationwide. Her and her team hand-select the toys that are found in each of our classrooms and have their pulse on exactly the type of toys that promote chidlrens' learning and development. Below you'll find her top picks for infants, toddlers, and preschoolers.
Infants
Rainstick

-

For the sound lovers

- More than just visually appealing, this rainstick will introduce your child to music through the soothing sound of simulated rainfall. At Kids & Company, we like to introduce music and rhythm early. It has been shown to help a child's brain develop faster, particularly with learning language, sounds, and speech perception.

Deer One Baby Animals Book

-

For sensory exploration

- This interactive soft book is a great addition to your child's library. Our infants are always putting things in their mouths, and not only is this book safe to be mouthed, with all the different textures, it's great for sensory exploration and to help infants begin to respond to different stimuli.

Wave Puzzle

-

For the young creatives

- This rainbow-shaped block puzzle offers the challenge (and fun) of developing both fine motor skills and creativity. We love multi-purpose toys and this is just that - older infants can exercise their imagination by using the toy in many different ways: as a puzzle, stacker, or sorting tool.
Toddlers 
Stacking Stones

-

For open-ended play

- At Kids & Company, we love open-ended invitations to play, with no right answer and no one right way of approaching a task. It allows children to make their own choices and supports their independence. These lightweight wooden stones provide an opportunity for open-ended play, while introducing the concept of balance.

Shake n' Match Shape Sorter

-

For learning the fundamentals

- This versatile cognitive toy provides an introduction to a variety of learning concepts, while also improving problem-solving skills. Through this one toy, children get to explore different colours, shapes, and even sounds.

Wee Baby Dolls

-

For pretend play

- By the age of 2, you may notice your toddler start to participate in pretend play. With props like these dolls and their bottle or pacifier, your child can act out different parts of their own daily routines which helps them to make sense out of what they observe, and experiment with social and emotional roles. At Kids & Company, diversity is one of our core values. We love that these dolls come in different skin colours and genders, and can be used to teach children about what makes each of us unique. 
Preschoolers
Magna-Tiles

-

For the inventors

- STEM toys are Science, Technology, Engineering, and Math based toys geared towards curiosity, learning, and education. (At Kids & Company, we include art and reading, STREAM, to further encourage our preschoolers to be creative, curious, and improve their critical/innovative thinking skills.) These translucent magnet tiles are an amazing open-ended STEM building set that allows children to use their imagination to build objects like pyramids, shapes, or rocket ships, while they learn about math and spatial relations.

Brio Farm Train

-

For the task-oriented

- This quality wooden train set offers children the opportunity to explore through imaginative play. An older child will be able to play-out so many different story-lines with this one toy; building the tracks, folding down the ramps, loading up the animals, and transporting them. Endless opportunities for play!

Snow and Sand Artist Kit

-

For outdoor play

- This set includes everything needed to make cool creations with sand or snow -  from shaping and forming designs with buckets and molds, to adding colour. This kit will get children playing outdoors, which creates new opportunities for social interaction and collaboration, and promotes physical activity and a life-long love of active play!
Find something you love? Mastermind Toys is one of our Perk Partners, which means Kids & Company families receive 10% off at checkout! Use the coupon code KIDSCO at checkout, as well as your Mastermind perks member email address to save. 
Posted on: Thursday November 24th, 2022
Posted by: Kids & Company