Defeating Dehydration!
With the summer finally upon us we are all ready to get outside and soak up the sun. However, as the summer heat increases, so does the risk of dehydration! It becomes increasingly easy to lose large amounts of body fluids on hot days, even when you're not being active. Dehydration occurs when the body loses more fluid then it's taking in, and is especially common in young children under 12.
Being properly hydrated is essential to staying healthy while being active outdoors. Hydration enhances energy and endurance levels, making it safe for children to spend more time playing outdoors. Without proper hydration children may become slow, fatigued, dizzy and even sick. Signs are usually only visible after the child is already dehydrated, making it extremely important to get enough liquids throughout the day.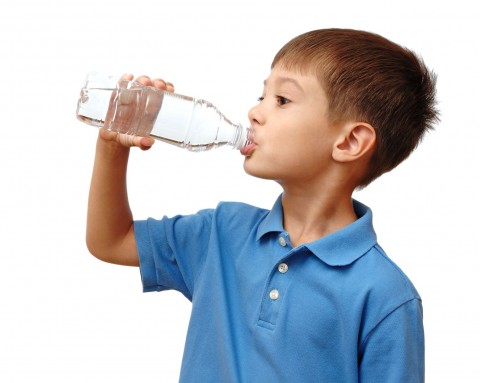 Hydration can be easy when a child is encouraged to drink water, having a water bottle in constant reach of your child is a great way to keep them sipping throughout the day. There are many foods that also help keep children hydrated including, watermelon, cucumber and leafy greens. The naturally sweet taste of coconut water is another great way to boost hydration and antioxidants too! A fun tip is to allow your child to decorate their own water bottle, this may make them more enthusiastic to keep it with them throughout the day.
Eat Right Ontario has some great ideas on how to ensure you are keeping up your fluids! There is a great chart explaining how many cups of water per day you should be consuming.  This is sorted by life stage, from infant to adult, so you can make sure your little ones are drinking enough water each day.
There are lots of fun ways to kick up your hydration. Give this fun Strawberry Lemonade a try that both you and your kids will love on a hot summer day!
Kidco Kitchen Homemade Strawberry Lemonade
What you need:
1 ¼ lb strawberries, washed & cut in halves, about 4 cups
2 lemons, washed and quartered (use limes to make strawberry limeade)
½ cup honey or sugar to taste
6 cups of water
Ice
What to do:
Blend the strawberries, lemons and honey with 2 cups of water
Strain the strawberry lemon mix, add the additional 4 cups of water through the strainer
Taste and add additional honey/sugar if needed
Serve cold over ice and garnished with strawberry slices, lemon slices and herbs
Cheers,
Chef Lisa Ruscica
Chief Food Ambassador
Posted on: Wednesday June 4th, 2014
Posted by: Lisa Ruscica