Family Fun Day
What's not to love about Family Day weekend? A day dedicated to spending time with your family, a great reason to make memories with the ones you love! There are so many fun things you can do with your family over the holiday weekend. You can go to a local park skating or tobogganing, play a family game of touch football or soccer in the snow or make a fire and enjoy reading stories with hot chocolate…the possibilities are endless!
Our family loves to entertain over the family long weekend so what better way to spend time together then cooking up a storm. My kiddies love helping me in the kitchen, and it ends up being a great bonding experience with memories I cherish forever! Try making my manicotti recipe that my son and I made over our last holiday weekend together. This dish is the perfect recipe for your kiddies to lend a hand. It involves mixing, sprinkling and stuffing manicotti, tasks your children will have so much fun helping with and even more fun eating!!!!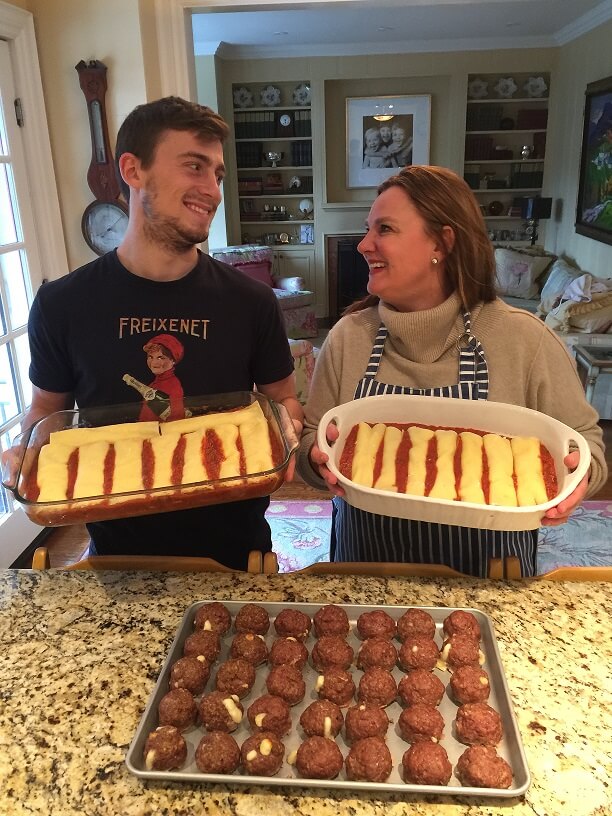 Chef Lisa's Manicotti Recipe
What you need:
- 1 lbs Lean Ground Beef
- 1 Cup Onion, Diced
- 2 Tbsp Minced Garlic
- 4 Cup Tomatoes, Diced
- ¼ Cup Fresh Parsley
- 2 Tbsp Fresh Basil, Chopped
- 1 Cup Ricotta Cheese
- 1/3 Cup Parmesan Cheese, Grated
- ¼ tsp Ground Nutmeg
- 1 Container Frozen Chopped Spinach, Thawed and Drained
- Uncooked Manicotti
- Salt and Pepper, To Taste
What to do:
1. Make sure to wash your hands before you begin.
2. Cook ground beef, onion and garlic in a skillet, stirring frequently, until beef is brown. Drain excess liquid.
3. Stir in tomatoes, parsley and basil. Break up tomatoes and season with salt and pepper.
4. Bring mixture to a boil, reduce heat, cover and simmer for 10 minutes.
5. Mix ricotta cheese, parmesan cheese, nutmeg, spinach, salt and pepper.
6. Spoon 1/3 of the meat sauce into a baking dish.
7. Fill uncooked manicotti shells with cheese mixture.
8. Place shells on meat sauce in baking dish.
9. Pour remaining meat sauce over shells, covering shells completely. Sprinkle extra parmesan cheese on top if desired.
10. Cover and bake for 1 ½ hours or until manicotti shells are tender.
As a Chef Lisa tip, if you want to serve this dish as a vegetarian meal omit the ground beef from the tomato sauce. I also love to use fresh lasagna noodles that I cook until el dente, roll with the cheese mixture inside and cut with my kitchen scissors…………..so delicious!!!!
Whatever you choose to do over the Family Day weekend make sure you take some time to enjoy your loved ones and plan something special to do all together.
From my kitchen to yours enjoy! Don't forget to follow us on Twitter @kidcochildcare and on Instagram @cheflisaruscica!
Cheers,
Chef Lisa Ruscica
Chief Food Ambassador
Posted on: Wednesday February 15th, 2017
Posted by: Lisa Ruscica