Wonderful Watermelon!
This summer we have added delicious and hydrating watermelon to our Kidco Kitchen Menu! Watermelon is 92% water and is a great way to keep all our active Kidco children hydrated throughout the day!  The children get to enjoy this yummy fruit on our menu every week!
The mild sweet flavour, combined with the bright pink colour makes this fruit a favourite among your little ones! You'll love it as watermelon does not contain any fat or cholesterol! It is also high in fiber, vitamins A, C, B1 and a great source of potassium!  While picking out a watermelon, ensure that it is symmetrical with no cuts or bruises. A watermelon that is ripe will have a healthy sheen, a dull rind and a dull yellow spot on its underside. The watermelon should make a hollow sound when you tap it and be heavy for its size! Make sure you wash the outside of your watermelon before cutting into this delicious fruit!
Watermelon is not just for kids! Kidco Kitchen recommends this fun and delicious Watermelon Gazpacho recipe from the National Watermelon Promotion Board at your next get together!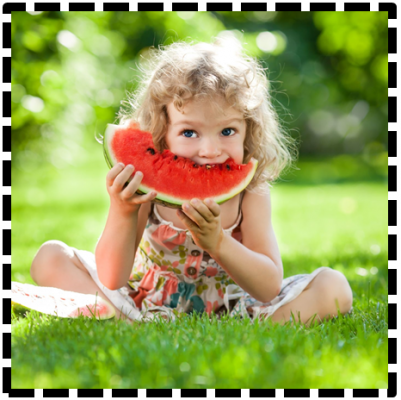 Watermelon Gazpacho
*Makes 4
What You Need:
5 cups chopped seedless watermelon
½ cup chopped yellow onion
½ cup chopped green pepper
1 tsp. cumin
¼ tsp. chili powder
½ cup chopped cilantro
1 tbsp. lime juice
Dash of salt and pepper
1 cup chopped seedless watermelon (reserved for garnish)
What to Do:
Puree all the ingredients in a blender until smooth. Chill in the fridge for one hour. Stir in finely chopped watermelon, garnish and serve!
Cheers,
Chef Lisa Ruscica
Chief Food Ambassador
Posted on: Wednesday August 6th, 2014
Posted by: Lisa Ruscica